SmartPad
Interview and Engage
SmartPad shortens the F&I process and creates sales opportunities by utilizing the hottest technology available today, the electronic tablet, to gather and present a customizable array of information while the customer is preparing to be transitioned from sales to F&I. SmartPad goes beyond the typical survey and interview by using dynamic video and exciting multimedia presentations to engage the customer in additional sales opportunities once they are turned over to F&I.
SmartPad configuration is web-based, meaning that dealers can tweak presentations on an as-needed basis and their tablets are updated immediately. The software runs on the world's most popular tablets, including the Apple iPad and most Google Android tablets.
At its core, SmartPad can be used to provide the simple CSI survey style of old, but has the capabilities of presenting and gathering information in an engaging way that has never before been done in F&I.

Infinitely customizable. Dynamically engaging. The new kind of survey.
Designed by Dealers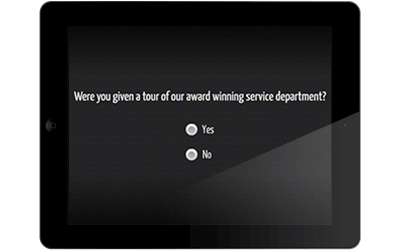 The SmartPad presentation is a combination of presentation sequences that are completely customizable by the dealer. The sequences are made up of whatever the dealer designs and can include dynamic videos. The dealer may decide to include multiple choice questions similar to the following examples:
How many miles do you drive per year and how long do you typically keep vehicles?
With your previous vehicle, what was your most expensive repair and how did you pay for that repair?
Which of the following is most important to you: vehicle appearance, resale value, or reliability?
Were you treated professionally during your time at ABC Motors today?
Shortens the F&I Process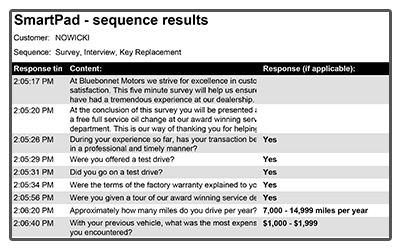 Results of SmartPad presentations that include interview or survey sequences are emailed immediately to the F&I department who will, in turn, be better equipped to present the customer with a menu. The traditional interview can still occur, but now F&I has pertinent customer information for better objection handling and a faster close.
Video Presentations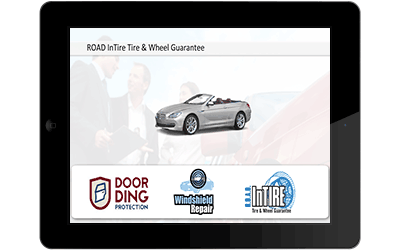 The SmartPad modules are dynamic and can change based on the make and model of a selected vehicle and the preferences of the customer based on information achieved during the SmartPad presentation. For example, if the customer is buying a BMW vehicle the presentation can discuss the specific costs for tires and wheels, which are much higher than most other makes. Modules also include digital photos of the interior and exterior of the vehicle being purchased to give the content a very customized feel.
Instant Alerts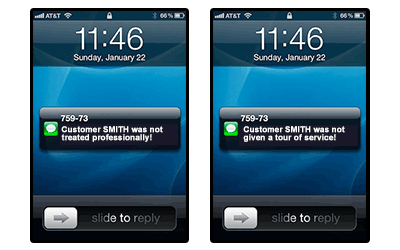 Dealers may elect to configure the system to alert various dealership personnel by text message or email. For example, if the customer is asked "Have you been treated professionally in our dealership today?" and they respond "No", a text message can be instantly sent to the dealer, general manager, and finance director so that immediate action can be taken.
Discover How Smart Your Business Can Be
Request a demo today, and let us show you exactly how our SmartDealerProducts can help your dealership achieve more than you thought possible.
Be Smart